Thursday, October 5, 2023
18:00 Opening of the exhibition by Carl Emil Carlsen
RIXC Gallery, Lenču iela 2

Intangible is an algorithmic nature experience in which you explore a series of virtual phenomena with your hands. Being audible, visible and touch-sensitive, yet non-haptic, each instance exhibits a perplexing performance for your senses, inviting you to investigate its behavior while it undergoes a metamorphosis.
The work reflects on the human desire to connect with the environment through the sense of touch, echoing our primal bond with the natural world. Engaging with simulated wilderness using the very technologies that have further estranged us from a tactile reality, represents an ironic return to nature.
Each instance is accompanied by a musical composition by Anna Fišere, blending acoustic and electronic sound sources to accentuate an unmistakably artificial, yet organic behavior.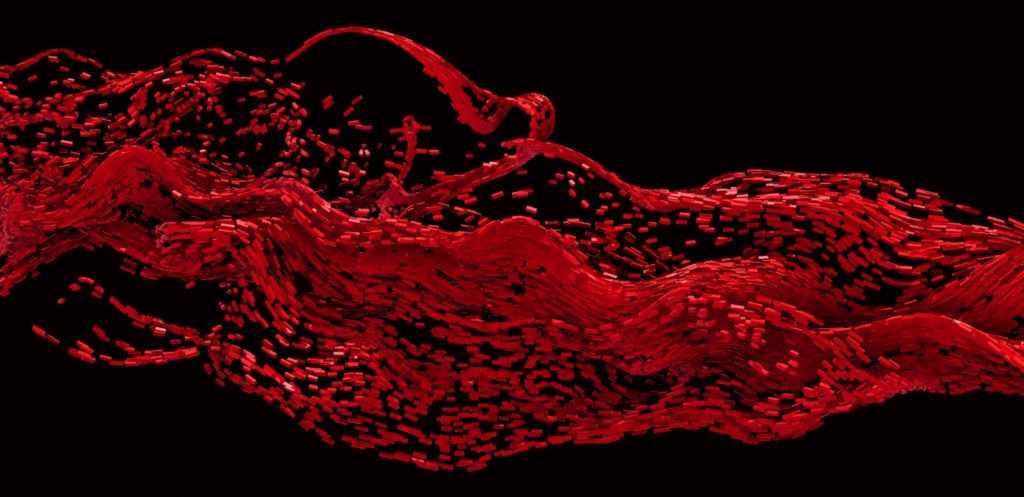 Carl Emil Carlsen is a Danish artist and designer who creates interactive experiences in the hybrid space between physical and virtual reality. Exploring the sensory potential of generative algorithms, and their application in live performance and visual music, he works closely with composers and musicians to investigate new forms of interplay between live sound and animation. His works have been featured at events and venues such as Ars Electronica (Linz), Nikolaj Kunsthal (Copenhagen), and Click Festival (Helsingør). The recent collaborative XR theatre production, "SH4DOW", received the main Danish performance art prize, the Reumert, as well as an Honorary Mention from Ars Electronica in 2023.

Anna Fišere is a Latvian composer working in the areas of chamber music, opera, music for choir and vocal ensembles, instrumental solo pieces, duos, electroacoustic music and sound installations. Fascinated by the most intricate properties of sound, she approaches it as a live organism that embodies a musical form in itself. Her work is often created in close collaboration with musicians, exploring the finest timbral, textural and technical possibilities of each instrument that eventually lead to meticulously designed sonoric architectures. Inspired by the mysteries of nature, she steps with it into a conversation through her music in which she strives to collide disciplined rationality and scientific research with feminine intuition and sensitive plasticity.