Paula Nishijima (JP/BR/NL)
Plug-in Habitat
Mixed media installation: two artificial modules (3D print, Arduino board, LED, bioplastic and polymorph), two videos, sound piece, vinyl map and video documentary, 2022-ongoing
In collaboration with Biomimetic Laboratory (Marlén López and Manu Persa)
Plug-in Habitat is based on the question posed by the architectural neo-futuristic group Archigram in the 1960s: what would happen if the whole urban environment could be programmed and structured for change?
The notion of an architecture that adapts to change is also embodied in the intelligence of plants—whose structure is modular and distributed, without a central control, but with a cooperative organisation that adjusts to altering conditions in their context.
In Plug-in Habitat, Paula Nishijima investigates adaptive strategies of plants as well as their relationship with other species and the environment. The artistic research is translated into an interactive installation composed of one living organism, a cushion plant and two artificial modules. The modules in the exhibition receive information from the plant about how it adapts to the changes in the environment—and respond to each other in a feedback loop of interactions that regulates the whole system.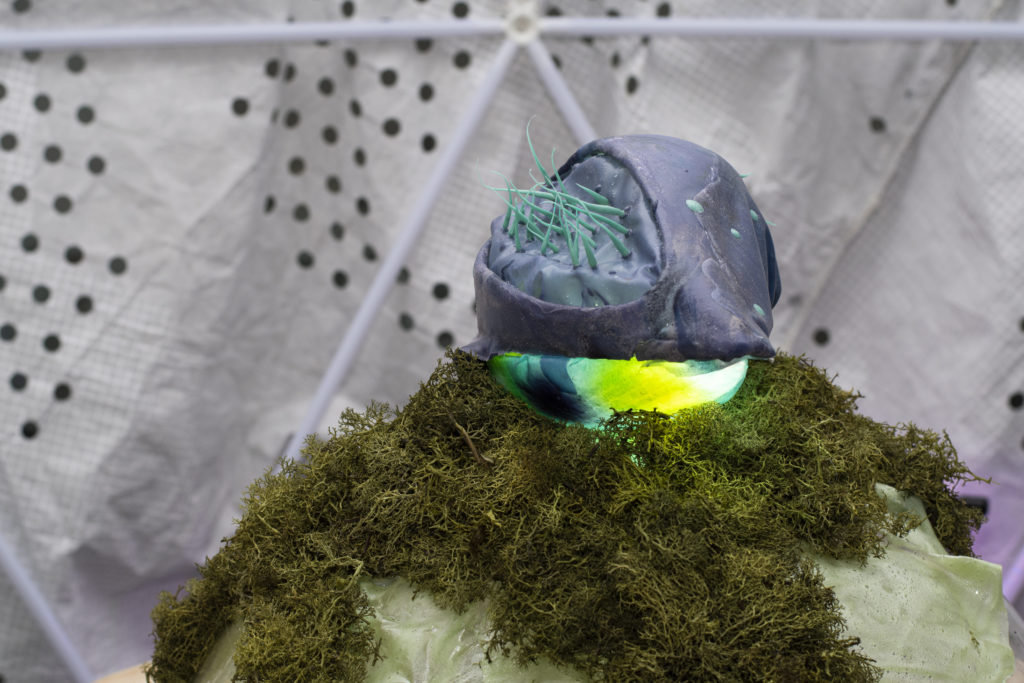 Paula Nishijima is a visual artist with a research-based practice that unfolds at the crossroads of art, life science, and technology. She investigates the collective, self-organised behaviour of living systems in nature, and how it inspires more collaborative, sustainable and ethical forms of relationships between humans, nonhumans, and the environment. Her artistic research is materialized into different media, e.g., video and bioart. Recent exhibitions include Plug-in Habitat, LABoral Centro de Arte, Gijón, Spain (2022); 20th Media Art Biennale WRO, Wroclaw, Poland (2023); Here and Now, Media Art Festival, Leeuwarden, Netherlands, 2021.