Carolin Liebl and Nikolas Schmid-Pfähler (DE)
fading substance
PLA plastic, caustic bath, video, 2023
Fleshy-looking anamorphic objects reminiscent of organs or photophobic deep-sea creatures are floating in an artificial environment. We watch them as they slowly age, become porous, and finally dwindle away—observing these bodies decay is a remarkable visual experience.
The footage was shot in a laboratory setup in which a small sculpture was immersed in a cylindrical container filled with caustic soda. The object is made of polylactic acid (PLA for short), a biodegradable plastic derived from plant-based raw materials. The decomposition, superficial at first, gradually distorts the sculpture until it finally breaks down into lactic acid and then into carbon dioxide and water. The disintegration process, which extended over several months, is documented minute by minute; due to the caustic bath, it occurred much faster than in nature.
As a long-term research project, the installation fading substance addresses our approach to biodegradable plastics and examines the temporal and chemical processes involved in the decomposition of PLA plastic in a visually palpable way.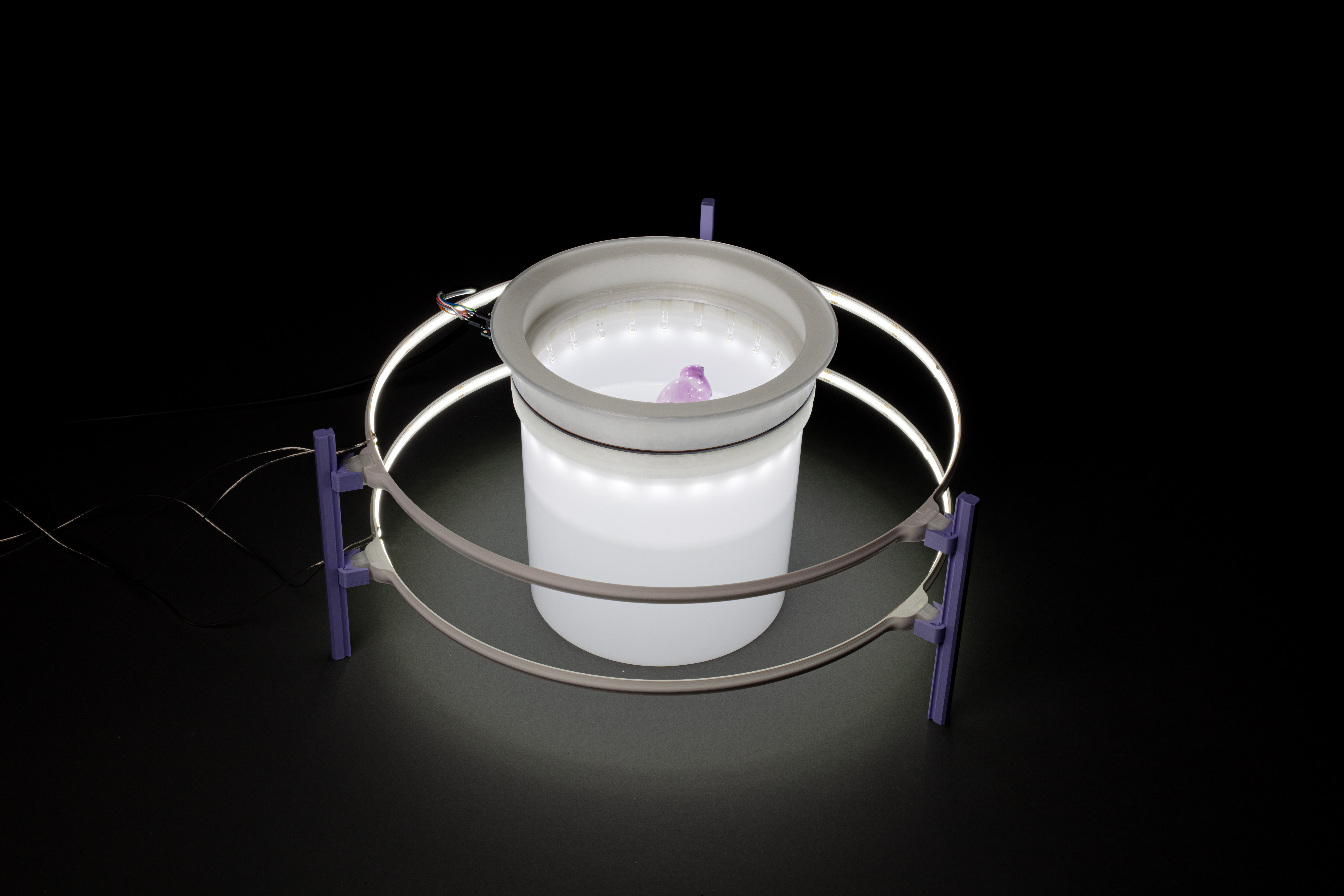 Carolin Liebl and Nikolas Schmid-Pfähler have been working as an artist duo since 2012, creating works in which material qualities of a visual and haptic nature are just as important as programmed processes, algorithms and physical laws. Using elements of kinetics and robotics, the duo creates sculptures and installations that explore the impact of technological developments on aesthetic and social aspects of life. Liebl and Schmid-Pfähler founded and run the interdisciplinary studio house Atelier Wäscherei in Offenbach am Main.
Their work has been shown in solo exhibitions at Working Artist Studios (Ballydehob), Kunstarkaden Kempten, and the Centre for art and sience (Mainz). The duo was represented with its works at numerous group exhibitions and festivals, including Kunsthalle Praha (Prague), Sapporo International Art Festival (SIAF) in Sapporo, Bundeskunsthalle (Bonn), WRO Biennale in Wrocław, and International Symposium on Electronic Art (ISEA) in Dubai.